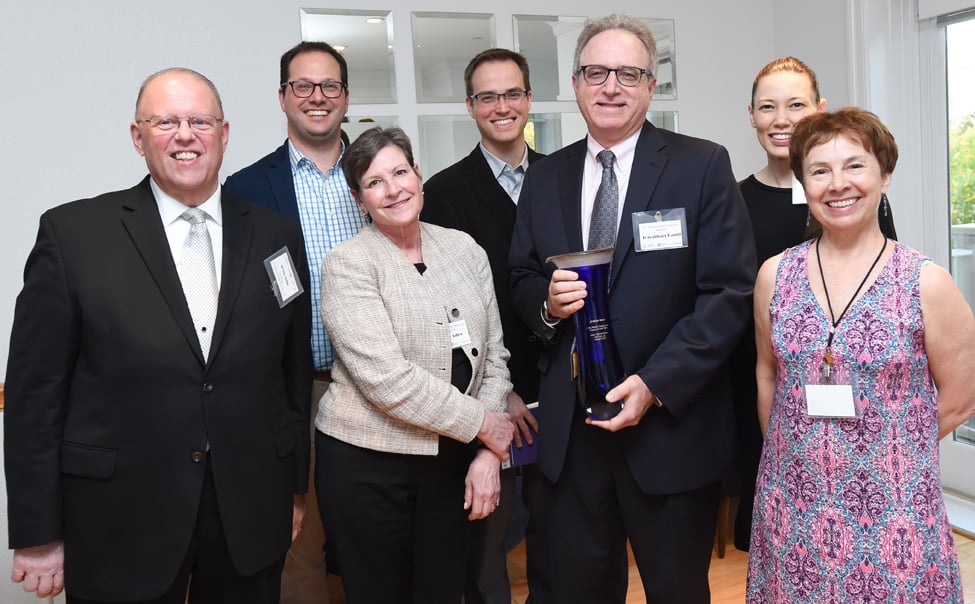 Everyone in this photo is directly or indirectly funded by Google. From left: ALA President Jim Neal; Re:Create Executive Director Joshua Lamel; Prue Adler, associate executive director, Federal Relations and Information Policy; Matt Schruers, vice president for law and policy at the Computer and Communications Industry Association; Jonathan Band; Katherine Oyama, senior policy counsel for Google; and Carrie Russell, director of the Program on Public Access to Information at ALA's Office for Information Technology Policy. (Photo hot linked from American Library Magazine).
The American Library Association has honored Jonathan Band for his "service" to libraries. Complete and utter Google sponsored propaganda. They didn't even bother to hide it.
And If you mean by "service to libraries" coming up with the most far fetched rationale for librarians to weigh in against artists and on the side of enterprise scale mass piracy operations going all the way back to Grokster? Then yes, service to libraries. Most recently they submitted an amicus in Cox v BMG case. They didn't even have a dog in the fight. The logic of the brief (written by Band) is so tortured and convoluted I think he wrote it on acid. Just joking. Clearly it is difficult to make points that Google wants to make in a brief that is technically submitted by librarians. It's not his fault. Although that would have been great if he actually wrote it while on acid.
But copyright and DMCA is not the only time that Band led librarians into darkness. Google's continuing obsession with pornography, sex trafficking and minors as some kind of "internet freedom" is consistently echoed by the librarians. SESTA sponsors Senators Portman and Blumenthal should pay attention here. The ALA has encouraged members to not install filters that would prevent minors from accessing hardcore pornography on public computers. As CBN reported in February:
"The ALA Office for Intellectual Freedom told CBN News "we follow the law about providing internet access to minors, which varies from state to state," but also explained that it opposes the indiscriminate "filtering" of sexual content. "Librarians encourage parents and children to talk with one another. Families have a right to set their own boundaries and values. They do not have the right to impose them on others," the office said."
8 year olds dude.
Think about this for a moment. If some fucked up parent or guardian thinks it's okay for 8 year olds to look at XXX sites in libraries, libraries will permit that? I wonder what Child Protective Services has to say about that. We can't wait for Band to drag libraries into the SESTA debate. Every one knows about this report right?
http://googletransparencyproject.org/articles/google-funds-dozens-groups-fighting-sex-trafficking-bill