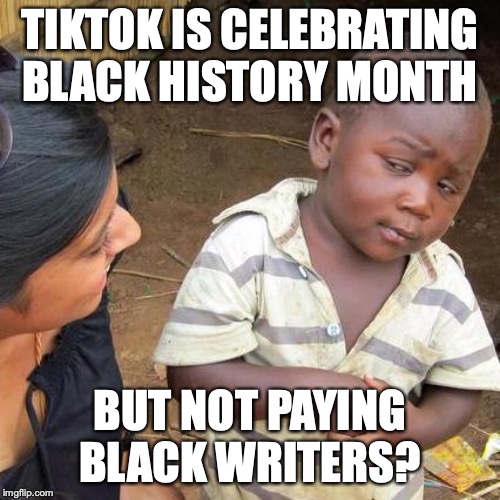 Adweek reports that TikTok is celebrating Black History Month.
TikTok is marking Black History Month with special edition stickers and by showcasing videos from some of the inspiring African-American creators on its platform.

Creators can add stickers with positive affirmations to their videos, such as Black History Month, Expression Without Limits and Make Black History.
We find this to be a disgusting bit of bullshit virtue signaling. Why? With the possibly a couple rare exceptions*, TikTok is not paying writers performance or mechanical royalties despite the fact they clearly publicly perform, make available and distribute copies of songs to their billion or so users. Sure they are not only stiffing persons of color, they are stiffing white writers as well, but given the fact that Black writers and performers are generally overrepresented in the music business, one could argue this is a kind of algorithmic racism that on average and over the long term takes money from POC and gives it to the executives at TikTok.
Executives like Global General Counsel Erich Anderson (formerly of Microsoft) and…
Former Warner Music Group Executive Ole Oberman. And…
Former Rights & Repertoire chief at GEMA and ICE attorney Dr. Joern Radloff. And…
Tracy Gardner former SVP Global Business Development at Warner Music Group.
Finally, does anyone notice a pattern here?  Key executives responsible for negotiating on behalf of songwriters and artists, suddenly switch sides and TikTok gets a free pass to infringe?
This will get ugly.
*Sources at one major label report that TikTok has licenses for a "very small number of recordings" with the rest of their catalog unlicensed. Sources at a large publisher report no licenses with TikTok at all.